REDUCTION MAMMOPLASTY FOR BREAST HYPERTROPHY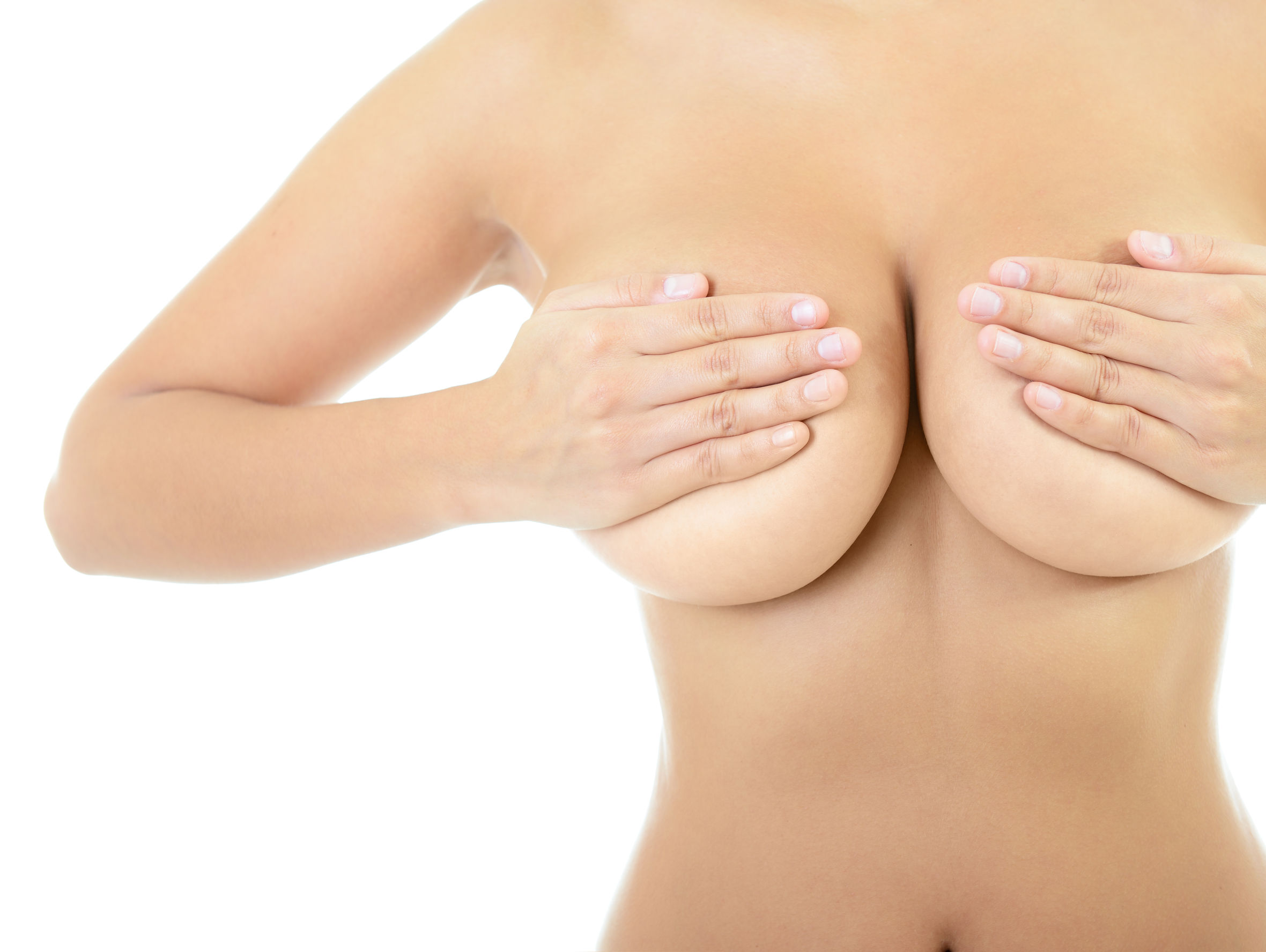 Breast hypertrophy is defined as excess weight and breast size. This hypertrophy is often accompanied by sagging breasts (ptosis) which increases arduousness. Breast enlargement is a source of backache, complex, embarrassment to sport and clothing

PRINCIPLE OF THE INTERVENTION

Not really broadcasted, reduction mammoplasty is nevertheless one of the most frequent plastic surgeries.

The aim is to reduce breast to a suitable size and to remove the excess skin to be adapted to the new volume.

Unlike breast augmentation which can be performed with a short and discreet incision, reduce breast requires the combination of several scars:

• A periareolar scar is necessary because areolas are often too large and too low.
• A vertical scar starting from the areola to the fold beneath the breast: from this scar, we realize both the removal of the glandular excess and the transverse excess skin (breast too wide).
• A scar in the sub-breast fold: the length of this scar is very variable depending on the importance of breast enlargement.

All these scars are usually very discreet when specific massage procedures are respected.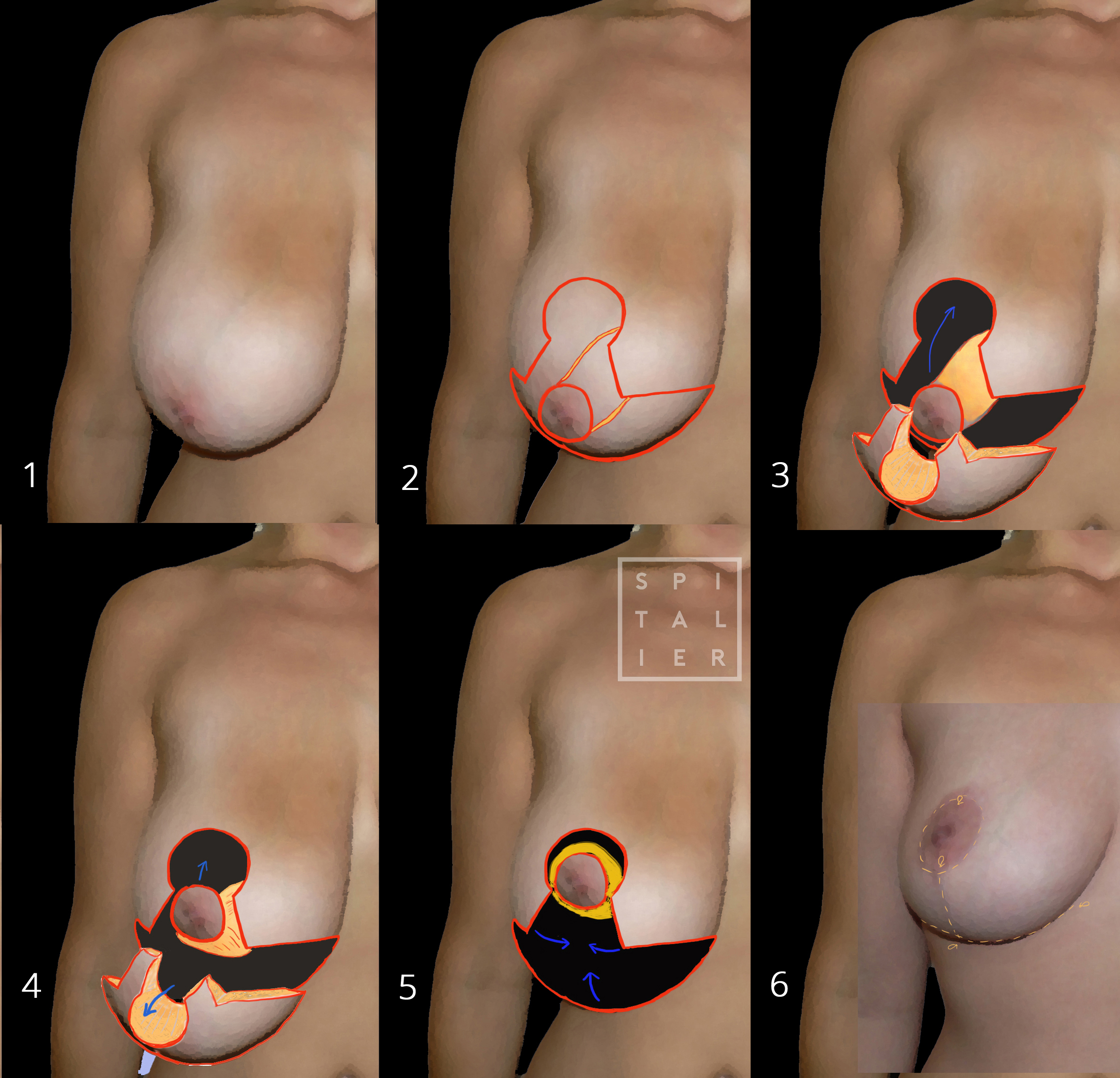 1 and 2 preoperative drawings: the patient is standing up
3 The areola is individualized on a glandular flap
4 The areola is raised then glandular and skin tissues of the lower breast are removed
5 Closing of the breast after breast lift
6 Scars are peri-areolar, vertical and horizontal (inverted T)
BEFORE CONSIDERING THIS INTERVENTION

Two preoperative consultations are necessary to understand the principles of the intervention and especially the cares required for optimal healing.
Depending on the age of our patients, an echographic assessement and /or medical imagery, (mammography, echography) will be prescribed
It is strongly recommended to stop smoking for 1 month before and after the operation in order to avoid a pain of the areola

For overweight patients, a loss of preoperative weight may be required.

INTERVENTION AND AFTER THE OPERATION

You enter the day of the intervention.

Drawings are done in the operating theater room. The quality of these designs affects the future of this operation result.

The procedure is performed under general anesthesia and lasts between 2 and 3 hours.

You will remain hospitalized overnight.

When you return home, it will be necessary to perform dressings by a nurse every 48 h for 15 jours. Showers are possible during this period bandages.
You need to wear a compression bra day and night for 6 weeks.

You will be reviewed in consultation control the 7th and 15th day to monitor the initial healing phase.

A consultation at 2 months is required to verify the absence of hypertrophic scars evolution.

In most cases post-operative recoveries of mammoplasty are often very simple, pain is moderate, usually relieved by ordinary pain medication (paracetamol).